I haven't done much in the last three weeks. I mean I've done plenty, but not working out or triathloning stuff.
Usually, when I take a hard core break, I aim to hit rock bottom. My goal then is to let the fire go all the way out, so it can be restarted again — though I'm not actually sure that's how fires work. It's a good mental exercise to do NO exercise until you want to do exercise. (Of course, most athletes tell you this is hard because they want to get started right away again. For me, it's hard because it's easy to wait too long and then you can't even find the fire under all the brownies.) But, usually, I eventually feel like doing some easy trail runs and fun bike rides again. I do those for a bit and then that builds into for real training as plans start to form in my mind and ideas take shape. And, then we're back at it.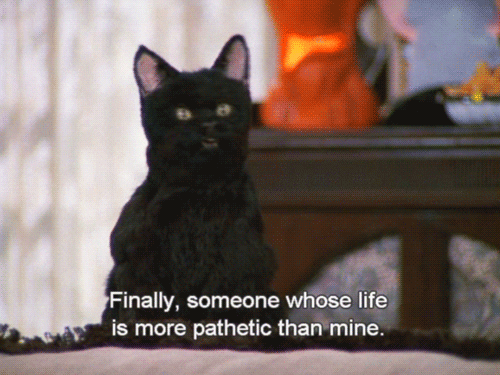 (This is pretty much Tupac the Cat.)
I'm having a hard time getting back at it this time around though.
Partially this is because it's hard to hit bottom when you have to go to all-day class every day, and learn how to shoot and edit a video, and learn street photography — and learn that it is not your strong suit. And the minor breakdowns — because fuck, moving without actually moving sucks — don't help the general feeling of exhaustion. But, partially it's been hard to get back into training because I'm not sure if I'm getting back into a season after a mid-season/post-Ironman break or if I'm going into an off-season. I don't know how Ironman recovery works either, but it seems a little longer and rougher than regular race recovery.
Usually when I start Googling races and jotting down ideas for what I want to do next year that means I'm ready to start training too. But, like everything else in my life right now, what I want to do is up in the air. Should I race collegiate? Should I do an Ironman? Maybe I'll just run since I won't even have my TT bike down here. There's nothing I'm super excited about this fall — besides Big Kahuna in four week, which I'm signed up for and hoping to get through on the basis of my existing fitness — so maybe I just do the LA Marathon and Oceanside 70.3 in the spring. Without knowing what my schedule is going to be like really it's hard to say.
All that has meant getting moving is hard. And when I do get moving it hurts.
So last weekend I ran half of a half-marathon with my friend, which was definitely as much as I had any desire to run. Then, I tried to ease back into some light workouts last week: easy short swims that were slow and sucked, one day of yoga, and a six-mile run on Friday. Today I went to a Masters practice because I thought it might kick me into gear and also because I wanted to see what this Masters was like.
And, of course, because swimming is stupid, after not being able to swim faster than 1:22s for months, today I was dropping 1:15s all over the place.
Then, I had to take a two hour nap.
See, back at it.
I was taking a 10 minute break from work and sat down on the couch. Best of America Ninja Warrior happened to be on, so I finally saw the one with the girl from last month that everyone's been talking about. Now I'm tearing up a little. Anything is possible guys.
Watch it.
Here's what I have done in the last two weeks:
- two 40′ easy swims — both of which felt exhausting
– commuted on bike four times 30-40′ in regular clothes
– ran just under 5 miles not super slow, but not hard
My understanding is that's how post-Ironman workouts are supposed to be: minimal, easy, and stress-free. This has been exacerbated by the fact that I'm in my all-day intensive class nine hours every day with outside projects and homework too, so it hasn't been hard not to work. It has, however, been hard to sleep enough for real recovery.
The only thing that's throwing me is trying to start doing easy swims and runs has felt Terrible, just awful. Since I just decided to do Big Kahuna half in five weeks, I'm hoping the legs and arms slowly come around. They will, right?
At some point in the next few days I plan to write a post about what I thought of The Ironman Experience and if it's worth what you pay. But, in the meantime, Ironman/World Triathlon Corporation has been busy making news.
Obviously, there was the whole crowdfunding to pay 7th place at Ironman Lake Placid to shame Ironman and push the debate about professional prize purses into the public eye. (You can read my interview with the organizers of that.) Personally, I think the campaign was interesting and certainly achieved its goal of attracting attention to the issue. And, it seemed like a really stupid PR move for an Ironman Corp. VP to take the check away at the finish line — no matter what he personally thought about the campaign and the organizers. But, there's also been a lot of blowharding of course.
And that blowhard bullshit has definitely come from all sides. I mean what kind of advice is the Ironman/WTC CEO getting if he decides to go on Slowtwitch and poke the beast? This string in the forum, which he started, was the craziest and most interesting thing I've read in awhile. It included this weird story.
(I think my actual favorite part of it was that here is the Ironman CEO starting a debate — or whatever he intended to start — about professional prize purses and what is necessary to grow the sport, and instead someone starts posting about putting the aid stations at IM Canada closer together. I THINK YOU MISSED THE POINT.)
There were a few interesting points in the string, though. A number of people pointed out that the races are clearly being diluted, right? If there are fields where there aren't even as many professionals as prize money, then it's safe to say that for whatever reason the incentives aren't there to get enough pros to the starts of races — though at the same time even if there was $500 in prize money for 7th would it be worth it if it cost you $1500 to do the race? Probably not. Ironman is definitely causing that over-saturation in part with their massive scaling up, but they've also created some of the incentives that stop people from going pro in the first place.
Side note: one of the most interesting points someone made was that under the ranking Kona qualification system for pros, Ironman has made it so that top age group athletes have no incentive to go pro — they won't make it to Kona as a pro, but they can just keep going over and over and over as an age grouper — so Ironman's kind of shooting themselves in the foot in the long run. And, anyway, we all know what my opinions are about people staying age group long after they shouldn't anymore.
Whether Ironman listened to the growing concerns or not, the announcement today about the changes they're making for next year was fascinating.
By eliminating prize money from a number of races, they're hoping to combat that dilution of talent and reward early season racing more. They're also paying ten deep at the championship races and rewarding automatic Kona spots. In some ways this took into account the arguments people have been making, but how it'll actually work out is definitely still a big mystery.
Witsup has a pretty good layout of what all the changes entail and how it will affect people. It seems like clearly the biggest problem is just that by eliminating the number of races that newer entry-level pros can earn any money at makes it harder for them to move up. When we don't have a developing ground for athletes we don't make it easy for the sport to develop. But, I don't know that the system before really worked for the mid-level pros. They were never able to actually break-even.
So, is all this a step in the right direction? Is Ironman finally dealing with some of its problems? Some of them? Any guesses on how this'll work out eventually?
I know no one cares about me doing Ironman Canada anymore. It was six whole days ago! I've moved to LA since then! I started a Masters fellowship program!
But, it was a big race for me and before Ironman I always wondered what people thought during Ironman. Well, it turns out mostly you think: 'keep on keeping on' and 'this sucks, this is the worst.' So, here's how it went down.
The short version is here.
Long version:
The days before were wrapped up in questions and logistics and dropping things off and eating and laying out bags and errands and logistics. I asked pretty much everyone I saw questions: How choppy is the water usually? What kind of swim start is it? Do you stop to get your Special Needs bag on the bike? How do I run through this transition – what's the layout? But, once it was race day, it was just a race day like any other.
I think they changed the swim start, because it wasn't how anyone said it would be. It was an in-water start, which is The Worst and I was freaking out about how much that'd suck, but it was actually fine. You could start anywhere between the shore and the first buoy, so everyone was all stretched out across an invisible line in the water. I had a great spot, but then people started crowding in and inching forward past the invisible line and suddenly the cannon went off. (Even though they'd been announcing a countdown every few minutes, they stopped with about four minutes to go, so the start was a surprise.) The swim was rough and stressful for 100m or so, but that's not bad.
After about 15′ of normal swimming I started dry-heaving underwater, which I thought only happened in saltwater but seems to happen in lakes now too. When that happens it usually makes for a rough day, so I was worried the whole day was going to be shot 15′ in. I slowed down a bit, burped underwater some to sort out my stomach, rolled a bit more onto my side to get bigger breaths (since it appeared I was swallowing a decent amount of water and having a hard time catching my breath), and it sort of settled.
The swim was great. I just kept swimming along, thinking about my arm position, and hit the first lap in just under 30′. I was so ecstatic. Everything is going great, right on goal! Keeping up the steady strong pace, I started to catch some people on the second lap. I'd swim next to someone for a bit, then drop them and move up. Towards the end, I felt slow and awful and shitty, but I was still moving along and knew I was going to have a great swim time, so Ironman Lesson #1: Even if you feel awful, you may be doing great.
I came out of the water in 1:01– after definitely NOT picking it up in the last 100-200m from the start buoy to the shore, when everyone else dropped me. This was about five minutes faster than I thought I'd swim and I was pretty confident it was a good sign for the whole day. You could not have convinced me at that point that I wasn't going to go 10:40 for the race, based solely on my swim.
A note on transitions: I have no idea how people spend seven or eight minutes in transition. I felt like I took my fucking time. I stopped in the sunscreen station to get them to put sunscreen on my shoulders. I stuffed food in my pockets. I took my own wetsuit off (because wetsuit strippers confuse me). And it all only took 2:40. I don't know that I'm ever going to lose my Olympic-distance-style transitions.
Once I was on the bike, I almost immediately started getting passed. I had, somehow, decided I was going to hold 140 Watts on the bike — based on my zones and what I'd thought it'd take to go 5:50 or so on this insanely hilly course. But, that plan meant keeping it under control at the beginning and then trying to hold the hell on at the end.
While I was keeping  it "under control," I got passed by hundreds of people, maybe thousands. The bike started out rolling and then, after 45′ or so, we turned straight up a ski resort. The climb was steady and I let my watts rise a bit but not too high. I ate and ate and drank and drank. But, I didn't feel great and it was getting discouraging getting passed by the entire field. After descending — which would have been fast and fun without other people on the road, but was sketchy with so many athletes riding poorly in their aerobars — we headed back the way we'd come. I stopped to pee about two hours in and kept telling myself I was totally on pace, doing fine, and I was not allow to worry about any other athlete until the second half of the run. (NOT THAT THAT ENDED UP BEING A PROBLEM.)
My stomach was still not feeling great and I was burping and having a hard time catching my breath, especially at the top of the ski resort. Maybe the elevation was worse than I thought. Maybe the fact that my stomach was bothering me last week was just unfortunate timing. Around halfway, I threw up a little on the top of my bike — which was a nice surprise for the volunteer who grabbed my bike at the end. After that, I had to switch to just gels and whatever I could keep down. I threw up, but really just water, one more time later and stopped to pee one more time.
Here's what I ate. I actually think it was a good amount of calories and drink and everything, so no, I don't know why my stomach sucked:
- Peanut Butter Chocolate Chip Clif Bar
– Two Chocolate Chip Z-Bars
– A pack-and-a-half of margarita cliff shot blocks
– Four vanilla Clif gels
– One-and-a-half cookies (I modified my chocolate-chip cookies to include some protein and slightly more salt and less butter, so it was basically a tasty bar, but it was a little dry)
– Three bottles of Gu2O, one-and-a-half bottles of Perform from the aid stations
– Two-and-a-half bottles of water
(It got a bit hard to count bottles because you were grabbing and tossing and dumping, but I think that's about right. My only real guess about everything, particularly since I got SO thirsty later, is that I require more water. I've noticed this in the past when I drink a lot of mix and less water.)
I just kept trudging along until the turnaround on the long flat out-and-back section. The turnaround came 15′ earlier than I expected and that was the most exciting event of the day. I did the math and was positive I was on pace for a 5:48. Yes!!! I, then, had one good hour. For one hour, I killed it. I passed people. I held my 140 Watts easily. All that was left was the last 40 kilometers back to town. This was going to be great! It would be no thing to do it in 10:45!
Then, I hit a bad spell. The worst and longest bad spell of the day.
After I stopped to pee the second time in Pemberton, all that was left was a bit of rolling and some gradual uphill back to Whistler. Or, at least, I thought it was a gradual uphill. Somehow when we went out to Pembertion on the highway, I missed the fact that we had gone down some long, steep hills. It was impossible to miss that we had to go up on the way back.
I was so thirsty, dying of thirst, but I couldn't keep much down. It was hot and I was dripping and I could barely get my legs over the top of the pedals. How is this hill so steep? It has to end at the top, right? But, it just kept going. I thought it'd be fine to hold 140 Watts going back uphill, since going up tends to be easier on power numbers, but it was impossible. I was struggling so much. With 20 kilometers left, (which is about 100 miles in) I knew I wasn't going to break six hours, even though that was the fastest 100 miles I've ever done. I got so discouraged. I went far, far into a hole. My legs were so dead. This was so long to be on your bike. I suck at biking, biking sucks, my legs suck. As it got more rolling and less steep, I tried to just stay tucked and aero, since my legs were giving out. All I wanted was to get off my bike, but all I didn't want to do was to try to start running.
We had to go around and around at the end before finally pulling into T2 and I tried to pump myself up. Even though I was discouraged about riding a 6:08, I tried to remind myself that I knew there was a chance it'd take me six hours. It was 6,000 feet of elevation! This was a hard course. I could still go sub-11 hours if I ran a 3:45. The only problem was that now sounded impossible.
Again transition took me no time, even though I felt like I was moving so slow. My bone spur on my left toe was throbbing when I ran across the grass, so it's good I took the time to put on regular running shoes — not triathlon shoes. But, as I headed out, I wanted to cry. I was overcome with the desire to start crying. The last thing I wanted to do now was run.
A few things kept me moving at the beginning:
- I was in 5th in my age group I thought (4th pretty soon after I passed someone towards the beginning). You don't quit when you're on the podium.
– I wasn't running as slow as I felt like I was.
– Maybe things would come around.
– You never know what can happen.
The whole run was marked in kilometers — a sign every 5K. That allowed me to completely disassociate from the distance. I didn't think about it. I only looked at how fast I ran each 5K. The first one wasn't great, but wasn't awful. The second was faster. The third was slower, but still not bad. Then, things got a bit blurry for awhile.
I was so thirsty. All I wanted to do was sit down in the shade and chug a gallon of ice water. That, however, was not a great idea for continuing to run. So, every aid station (and there were a lot of aid stations) I grabbed cups of water and Gatorade. I thought it'd pass, but it didn't. Instead, I got cramps too. And, I was still thirsty. About an hour in, I started walking most of the aid stations, but made myself promise that meant I'd run between them. I felt slow and terrible, but I was moving, so even though I thought it'd be unlikely I'd meet my time goals, I just kept hoping I'd come around.
I hit the 20K — a marathon is 42K — on pace for a 3:52 or so. That's fine, I thought. It's not what I wanted, but it's ok. Even if I slow down, and I will slow down, I'll be right around 11 hours. That's fine. It's all fine. Just keep moving.
I had one good 5K and then things went dark for awhile. I never noticed everything going bad. I thought I was slowing down a little, but I was actually slowing down a lot. I walked twice outside the aid stations and made deals with myself. Otherwise, I kept shuffling. I figured that eventually I'd finish. (In reality, at the lowest point, I think I was running 9:30 pace when I was running and mostly I was running 8:50s or so, but if you walk every aid station every 2K then it adds some time.) The problem was that somewhere around 13K to go, I stopped caring. I didn't consciously stop caring, but another girl passed me with a few miles to go — one of the people on the side yelled that I was struggling and she could catch me and I wanted to be like 'no, no, I always look this awful' — and I just thought: ugh, she's running so fast. Ironman Lesson #27 or whatever we're on: You can not lose focus; you have to keep consciously choosing to go as fast as you can at that point.
I think the fact that I simply couldn't run more during training hurt me on those last nine miles. My body just wasn't holding up to it. My legs hurt so, so much. The problems I have — my left foot (which may or may not need surgery eventually) and my left knee — hurt but they weren't debilitating. Mostly, my body just fucking hurt. I trained a good amount. And, if I had tried to run more on my torn foot muscle or when my left knee and bone spur were acting up, then I would have been hurt before the race even started. So, I trained what I could, but I don't think it was enough running.
Right up until the last mile, I genuinely thought I was going to run a 4:05 or so and come in around 11:15-20. Instead, I ran a 4:18. Oops.
And, then I was done. And, even though I had had almost no reaction to all the hundreds of people cheering the whole course — I was just too focused on moving forward — the end made me almost start to cry. I high-rived small children. I raised my arms over my head. And, then my head rolled back and I fell forward. You can't quite see it, but this is basically as my knees buckled:
So, yes. I biked about 15′ slower than I wanted and ran like 35′ slower. But, I also didn't know if I'd be able to do it at all well or if my body would hold up with all the injuries and problems. This kind of thing is not my thing. Going hard for an hour is my thing.
I'm tempted now to try again. Just sign up for a race in a month and cash in all the fitness. Of course, that sounds awful, though. But I don't know if my body could stand training harder and more for another one.
- Move to LA 16 hours after you get home from your race
– Start a graduate fellowship program immediately after moving (like without enough time to unpack your clothes)
– Have that program begin with an intensive, 9 hours/day, three week bootcamp
– Stop sleeping
– Become a coffee drinker
In case you were wondering, this is a recipe for feeling fantastic.
In case you missed my twitter and my facebook and my general calling everyone I know: I did finish Ironman Canada at 6:32 p.m. on Sunday. But, man, that shit was long and hilly and rough.
Since I'm unpacking my bags, after getting home at midnight, and packing them back up to move to LA this evening to start my program at USC, this will be brief (for now).
My goal was sub-11 hours. My big goal was 10:45, which I thought would get me top two in my age group. (At least I was right about that.) I still fundamentally believe I can do that, but I also knew I had no idea what would happen after six hours. And I was right about that too. Sure, part of me is upset I was off my goal and I'm pretty annoyed with myself for switching out of race mode and into just-fucking-finish-the-damn-thing mode around 15 kilometers left in the run — since it was in Canada, I only think in kilometers now — but I went for it and I did really well for a long time and when it went badly I still kept it together enough (just enough). So, I guess it wasn't too bad for my first one ever. But, no, I don't know that there'll be a second one.