UPDATED: Original post – Aug. 12
Tomorrow is 8 weeks to Kona. I know this because 1. people on Facebook keep saying it and 2. it's a Saturday, so that sort of makes sense.
People ask me a lot of questions about Kona training. Am I ready? (No, duh, I have 8 weeks still.) What's training with Hillary like? (Hard.) How much do I train? (A normal amount for someone going to Kona.) I must train so much. (Not really.) What is that like? (Hard. Normal.) Am I excited? (Sure. And tired.)
I was reading this amazingly hilarious running diary of the opening Olympics weekend in Rio by a Sports Illustrated writer, and I thought that's perfect for capturing the flavor of it all. I should do that. I should just do a running diary of these last 8 weeks and it will answer all these questions, which really all come down to one question: No, really, what's it like?
So, this post will just be a running post from here until Oct. 8. (Just had to look up that date; blissful ignorance is my secret sauce.) I'll add short notes and thoughts to the top, below this intro, maybe every day, maybe every few days. We'll see. Maybe I'll be so tired, it'll just be a weird jumble of words. Welcome to the journey.
—
Friday, Oct. 7
2:10 p.m.
It's time to go, I suppose. I've improvised a way to get my number on my bike, packed up all my bags — so many bags — and put the stuff that I need in the places that it needs to be. And, at this point, I guess if it's not there, then I'll make do without it.
I don't know how tomorrow is going to go. I'm not just saying that. I really don't know. When I do the math on what I can expect, my rough range for a good day is about a 50-minute window. That's a wide range. And that doesn't even count if it's not a good day or if it's a really really bad day. It's just really hard to know. You can't know. I'm alternating wildly between feeling fit and confident, and feeling very worried. There's so many little things you could fuck up and any one of those little things could be un-recoverable from. I've managed to forget all the bad parts from IM Wisconsin, so all I remember now is how it just smoothly floated by. But that's not really what it was like or what tomorrow will be like.
Last night, at the welcome banquet, Mark Allen was talking about embracing the island. He got all poetic on the topic. Instead of just hoping it'll be 72 and overcast, with a tailwind all day, he said, you have to lean into the heat and the humidity and the wind and the miserableness. So that's my goal.
I'm #2126, but you can track by last name too (if you know my last name). And I'll be handing my twitter over to Steve, though who knows what he'll tweet.
No matter what, I'm probably going to end up crying, and definitely going to end up drinking. Either way, it's done tomorrow.
Thursday, Oct. 6
7:10 p.m.
I might be a little emotionally strung out. We're at the welcome banquet and, literally, everything is making me start to choke up. The odds of me reaching the finish line without sobbing are basically .05%.
9:05 a.m.
Also, I think it's probably better I missed that.
8:33 a.m.
I slept through the Underpants Run. I needed to get better quickly, obviously. And I do feel somewhat better, but now I just want to sleep all day.
Wednesday, Oct. 5
11:10 p.m.
God, I still feel terrible.
6:43 p.m.
I don't think throwing up over the side of a boat is good prep for Kona. But that is what I am doing.
I don't care how cool the lava flowing out of the volcano and into the water is, clearly my body does not like small boats and planes. This, uh, finely tuned machine is finely tuned.
Tuesday, Oct. 4
9:35 p.m.
'Well, I'm racing on Saturday' is the universally accepted excuse for why I can't do shots with you, Mr. Triathlon Legend, even though it's your birthday. He told me I better do good on Saturday then.
Man, I hope so. I did not not party to suck.
9:05 p.m.
OK, I will go with you to the bar, but I'm just having one more beer. A Bud Light is basically water.
8:44 p.m.
I'm just having one beer with dinner. That's fine.
8:15 p.m.
Alyssa and Lauren are very concerned that I should be home sleeping.
7:25 p.m.
I'm driving to meet some friends and the DJ on the radio station I've been listening to for the last month is telling everyone, "Look, I know it can be frustrating, but we got to show these triathletes the Aloha Spirit. Even if we don't feel it, they came to our Big Island, so let's show them what it's all about."
So there you go.
5:33 p.m.
The one thing I've been stressing about a bunch is heatstroke. And one of the factors in that is the sunburn factor. (As someone who has had heatstroke, I know there's not much you can really do to stop your body from overheating — other than not going so hard — but you can not do things to make it worse.)
I've been going back and forth all week about whether I wanted to buy this skinsuit for the bike, which would cover my back, helping prevent sunburn too early, and ideally be fast. The problems were 1. I had not raced in it, which stresses me out, because you're not supposed to do too much stuff you haven't done before, 2. I had never run a whole marathon in a skinsuit, so would probably end up wanting to change in T2 in some capacity, which I have also never done, and 3. I want to be sure to wear some of my team's stuff (Team Freeplay, yo) during the race, because they've been supportive all year.
This has basically been my thing I've been angsting about all week, because everyone has something. And then this afternoon I took the plunge. I got the speedsuit. And I'm just going to change in T2. Not 100% sure into what combination of stuff yet. So, you know, I have something left to worry about — which is what I'm doing now.
1:05 p.m.
I decided to go ahead and check-in today, do a walk-through of the expo, and then be done. That way I won't have to go back there until I drop off my bike on Friday. It was a good choice I think, but I walk in to the ballroom, am directed to a table, and the volunteer asks me, "What's your bib number?"
Uh, I dunno. Don't you guys have a list of that?
Solid start.
3:00 a.m.
I keep alternating between being pretty confident about all this — at least in the sense that I'm ready and I can do what I know how to do — and pretty freaked out that I'm going to screw up something stupid and end up with heatstroke. I have had heatstroke. It's not fun.
Monday, Oct. 3
7:55 a.m.
In a week, I will be on my way home. First time since Aug. 25 or whatever. I had a crazy dream last night that involved me trying to get home with 20 different rental cars and then I got there and Tupac the Cat was like: Fuck you.
Sunday, Oct. 2
4:17 p.m.
Alyssa and Lauren got back to the condo and told me my car had been semi-vandalized and someone had written on the windshield: "Move your fucking car."
I am now having a very awkward conversation with a very drunk and stoned guy, which primarily consists of me saying, "I'm sorry, I thought this was a public beach" and him saying, "Don't fucking do that again. You've been warned. You've overstayed your welcome, fucking move along. Don't fucking do that shit."
As far as I can tell, the primary problem seems to be that other people want my parking spot so they can also get very drunk and stoned.
12:43 p.m.
Here's a secret about Kona: no one is actually doing anything cooler than you are.
8:24 a.m.
Oh my god, my back hurts so bad. And my hip flexors. How am I possibly going to do the rest of an Ironman after swimming this? It is impossible. Everything is impossible.
8:16 a.m.
OK, it's fine. Fine. Super easy, smooth, except my back hurts.
8:02 a.m.
I take it back. This is the longest swim ever.
7:52 a.m.
This isn't a bad swim. Maybe the first time I haven't felt terrible since Wednesday. We're flopping along looking at fish.
7:16 a.m.
I don't like getting up early if I don't have to, but evidently every other person in Kona doesn't have this problem. We're meeting teammates at the pier to swim the course (and my condo-mates already went running at 5 a.m.) and it is already swarming with triathletes.
All of whom I'm sure will post photos online.
ONE WEEK TO GO
Friday, Sept. 30
10:43 a.m.
There are multiple photographers taking pictures out on the Queen K. That is how much of a scene it is. And everyone keeps saying, 'Just wait until next week.' Yeah, no thanks.
Thursday, Sept. 29
5:58 p.m.
It is raining in Kona. I officially brought the rain with me.
12:51 p.m.
It needs to be someone's official job to keep me off social media. If you ever want to have a full-on panic attack about how everyone is doing cooler things than you and has amazing lives and is probably going to win, and you're just sitting on your couch watching Law & Order: SVU and resting, then you should definitely browse the #roadtokona or #konamoments hashtags.
Wednesday, Sept. 28
5:20 p.m.
There are at least three world champions at the pool. Just in case I wasn't feeling like enough of an insane head case.
3:22 p.m.
And I pass a guy in full race gear and kit, with a mirror attached to his aero helmet. That probably sums up how I'm going to feel about the next 10 days.
2:58 p.m.
I have officially pulled in to Kona for good.
Monday, Sept. 36
11:40 p.m.
Or maybe I've forgotten how to sleep.
11:33 p.m.
I'm so hungry I can't fall asleep. I just keep thinking about all the things I'm going to eat tomorrow.
5:37 p.m.
I'm running down the side of the road at a tempo pace when a dreadlocked guy, walking barefoot towards me, calls me a "dyke."
It's likely that he's mentally unstable. One could even make the argument that, by definition, yelling "dyke" at strangers isn't a mentally stable thing to do. Still. It seems like an outdated attempt at an insult? Like 20 years out of date.
Sunday, Sept. 25
5:20 p.m.
I'm getting a massage at this meditative retreat center. It's one of those yoga + meditation + clothing-optional type of retreat places, with lots of acres of trails and gardens and hammocks and huts to stay in and enjoy nature. I think my mom would be into it. It also has a massage school, with 80-minute massages for $40.
It's actually a pretty good massage, especially for $40, but it's definitely, uh, different than your standard sports-focused, performance-oriented body work.
It occurs to me, as I'm laying in silence in the communal massage temple, that I doubt anyone has ever come here as part of their Kona prep before. I may be the first. My masseuse is very excited about this. He's pretty good and cool and I think enthusiastic about Ironman — it's hard to know for sure because everything has to be said in a silent whisper and I'm only catching 50% of what he whispers. He does announce, though, based on the muscles in my back, that I'm definitely going to win.
So, just fyi, you all don't need to show up now. It's been decided. I got this.
10:45 a.m.
My Fitbit always thinks I'm amazing.
Saturday, Sept. 24
9:17 p.m.
At the lava tube in the park, two different people said to me, as I ran, "Are you doing The Ironman?" And when I said, "Yeah," they both said (separately), "I could tell."
Literally, days in the rainforest go by where I don't talk to anyone in real life. My mom is getting sick of me calling her whenever Happy the Dog or Mr. Willie the Rabbit start to talk back to me. And the only conversations I have with real live actual people in Pahoa always start with, "Are you doing The Ironman?" I suppose I could have struck up a conversation with the guy at the market who was super excited that vodka was on sale, but somehow it would have ended with me explaining how The Ironman works.
I know that once I'm over in Kona, I'm going to be sick of triathletes within 48 hours, and I know I still have to do the damn thing, but god, I'm so ready to be done it's almost like I already feel done.
2:30 p.m.
After I found the "trail" through the lava field, I was running hard and fast(ish) through the rain and wind in the crater. Everyone I passed was in raincoats and full hiking gear, and I was wearing tiny shorts and a tanktop, leaning in.
And I loved it.
1:25 p.m.
Except, uh, do you see a trail here? I don't see a trail. I was running down through the steam vents and then through the rainforest and all of a sudden I was on a lava field. Where do you go from here?
12:44 p.m.
Worth it.
11:58 a.m.
Some days you have to declare a 'good for the soul' day. I needed to do my last (please, I hope it's my last) long run somewhere that wasn't a boring mind-numbing hot road. I needed to do something fun. So I'm running around Volcanoes National Park. Volcanoes. As in more than one.
TWO WEEKS TO GO
Friday, Sept. 23
12:58 p.m.
I'm stopped at a coffee shop, refilling a bottle, and there are two middle-aged couples sitting outside. We then have a variation of the conversation I've had at least a dozen times since I landed on the Big Island.
Guy: That's a nice bike. Are you getting ready for The Ironman?
Me: Yeah, in two weeks.
*general murmurs of awe*
Woman: So have you done one of these before?
Me: Yeah, but not in Hawaii.
Woman: Wow.
Guy: So you can swim 2.5 miles?
Me: Yeah.
Guy: Wow, I've never met anyone who can swim 2.5 miles. You've done this before?
Me: Yeah, you have to do one to qualify.
Woman: Wow.
Guy: Where are you from?
Me: California.
Guy: So you shipped your bike from there?
Me: Well, actually I flew from Australia, so I flew there with my bike and then here.
Guy: Wow.
Woman: And how many people are there going to be? How many do they expect?
Me: About 2,000
Woman: Wow.
Guy: Whoa.
Whoa. Sometimes, in between all the unglamorous getting by and dripping sweat and pounding Gatorade and taking so much melatonin to fall asleep that I really hope it doesn't cause problems down the road, I forget it all sounds so much cooler than it is. I forget this isn't just normal to everyone.
6:17 a.m.
I'm losing my mind. I know it's subtle, so you probably can't tell, but I'm straight up going insane.
Thursday, Sept. 22
4:15 p.m.
It was one of those days here where it's exhausting to do anything. Too hot. Too humid. When I started my workouts, it hadn't rained yet for the day, so the swamp air made the easy run not so easy. After I was done, after I had stalled, disoriented, in the middle of the aisle at Longs and chugged a cold Gatorade so fast I gave myself a headache, after it started pouring on my drive home, after I lay on the floor for a little while, after all that, I went outside and just stood in the rain.
Wednesday, Sept. 21
9:22 p.m.
I don't even know what I do with my days, but they just sort of disappear. Working out and living in the rainforest takes up a lot of time. I'm so disconnected from reality I had originally labeled yesterday's entry 'Monday' and could not figure out why the dates and days weren't lining up.
Maybe this is what being a professional athlete is like?
Agh, let's just do this shit already.
Tuesday, Sept. 20
4:25 p.m.
I went to the ponds and also I napped. And, well, I guess that's a perk of having no assignments right now. Downside: I also have no money. But that's a problem for Future Kelly.
10:20 a.m.
There was a point on Friday in the middle of my ride, when I was standing in air conditioning, trying to get my core temperature down, guzzling gallons of water and Gatorade, and reapplying sunscreen, and I looked out the window of the fancy resort lobby I had stopped in and saw the people lounging on the private beach and thought, "Well, I guess that's what some people come to Hawaii for."
I have a rest day today and was thinking I'd go to the hot ponds at the beach nearby. But I sort of just want to take a nap instead?
Sunday, Sept. 18
8:25 p.m.
I have never done Kona before. I had never even been to the town of Kona before Friday. People keep being surprised by this. I think they think because I know a lot about triathlon, I must participate in the annual triathlon pilgrimage to Kona, since ohmygod it's the only race that matters. I think they also think I must have been this speed for more than, like, a year, so I must have qualified before. But, training works y'all and I've gotten a lot faster in the last year. And I have only done two Ironmans ever and one of them definitely did not come anywhere close to qualifying me for the World Champs.
So.
So, I know Kona is synonymous with insane tough challenges. I know that's the one thing everyone knows about That Ironman in Hawaii. I know it's the opposite of conditions I'd be good at and that if you were going to construct a race from scratch to be my nemesis this would be it. Honestly, though, I kind of always thought everyone was exaggerating.
I was a bit shell-shocked, then, after my first ever ride down to Hawi on Friday. My text message to Steve was: "This is going to be a rough race."
I was also glad I didn't see that for the first time during the race.
And I knew, afterwards, I needed to prepare more specifically if I want any chance of success. I needed a better plan than hope. Today, I drove over from my rainforest oasis to run in the heat and humidity. It was puddles of fun, but it got done. I was hot. I was dripping sweat. I got chills. I drank gallons of water. I put my head down and ran into the wind. And it got done.
I don't know if I'll get everything right on Oct. 8. Maybe. Maybe I'll still end up in the med tent. 50-50.
Saturday, Sept. 17
8:01 p.m.
My mom sent me a care package.
10:05 a.m.
The email I just wrote to Hillary—subject line: Some Questions and Thoughts About Kona—was quite long. Yesterday's ride of the Kona course prompted a lot of, uh, concerns.
THREE WEEKS TO GO
Friday, Sept. 16
4:43 p.m.
I survived my first ride on the Queen K.
Thursday, Sept. 15
3:10 p.m.
Nope, raining again.
1:37 p.m.
I drove home, got my pull buoy, and drove back. And now it's starting to slightly let up. Stupid Hawaii.
1:20 p.m.
Finally, I gave up on waiting and drove to the pool. I got all the way here and the girl tells me I can't use their pull buoys because too many have gone missing. Seriously? I am literally the only person here in the rain. You'll see if I walk out with it.
10:52 a.m.
It's not different.
10:51 a.m.
Maybe if I check the radar map again it'll be different.
10:42 a.m.
I can't ride in this. And even the pools are closed because of lightning. I am just sitting here waiting for the rain to stop in a goddamn rainforest.
10:05 a.m.
Shit, it's not breaking.
8:45 a.m.
This monsoon rain has to break, right? It has to.
Wednesday, Sept. 14
9:03 p.m.
Oh man, where did my day even go?
3:24 p.m.
I am buying out the Target in Hilo's stock of Chocolate Mint Clif bars. Since they only come in boxes of six at a time this is a bit challenging, but I get it done.
2:30 p.m.
My mom asks me if I saw the petrified lava trees she's heard about while I was running through Lava Tree State Park (since it is what the park is famous for). I have to tell her, "I have no idea. I've spent three weeks now with everything looking crazy." Is it an exotic bird or just an Australian pigeon? Is that a famous crazy tree? Who knows?
1:45 p.m.
I mean, to be clear, I am still running through my own personal pool. But at least I can breathe. And, there, see, that was a hint of a light breeze.
1:05 p.m.
The upside of the monsoon rain last night is that the humidity broke. I am running and I am not dying.
Tuesday, Sept. 13
3:44 p.m.
The Kona bike course looks like this:
(Photo: from Triathlete Magazine)
Yet, my ride currently looks like this:
(And, yes, that is the only photo I took on my ride, because I had to stay alert for the wild pigs.)
I get the sense I am on the wetter side of the island?
2:17 p.m.
I have sweated through another set of clothes while trying to pump up my bike tires. Either I'm going to adapt or I'm going to die from water loss.
10:55 a.m.
I am told this humidity is insane even for here. But, then again, I have also been told wild pigs probably won't be a problem. Let's hope all of those things are true.
10:15 a.m.
I am not going to make it through a marathon on this island. I have run 2 miles and am drowning in my own sweat.
Monday, Sept. 12
6:33 p.m.
It was 9:50 p.m. on Monday when we left Australia. I have traveled back in time (also, figuratively) to Pahoa, Hawaii and am now house-sitting for a friend of my mother-in-law's for a few weeks before heading over to Kona, which is on the other side of the island. FYI.
It's the middle of a rainforest. It feels like. And a good place to get some work and some workouts done.
The couple I'm staying with, until they leave on their trip, showed me all around and cooked up some fresh fish he'd caught for dinner and were super nice and excited about the race and how I'm going to get ready. But I think they weren't quite sure what to expect from me or how intense I'd be. One of the first things she said was: "You're so small. I thought you'd be bigger." And I was like, yeah, everyone does.
FOUR WEEKS TO GO
Friday, Sept. 9
8:50 p.m.
I am in full-on vacation mode. Sort of. In the last four days, I have held a koala, petted kangaroos, swum in a coral reef, and seen hella (*official term*) whales swimming under and around our boat.
I don't know how professional athletes ever take a full-on vacation not during off-season. If your job can not be vacationed from, by definition. I was thinking about this on the little plane out to a tiny island in the ocean. (Side note: This was while I was cold sweating and shaking from the flight, because my body decided to simply quit on me for three days starting with the great-then-terrible bike ride this past Saturday.) There was no way for me to get real workouts in for a couple days with all the vacationing + body quitting. I did some short runs and worried I would lose all my fitness in 48 hours. As we do. It's impossible to be a normal person.
And then we got into Brisbane and I ran my 17 miles in the dark, up and down the waterfront. Because we do what we do.
I'll be out of full-on vacation mode by Monday. Then, only semi-vacation.
5:35 p.m.
Just when I think I'm getting good at swimming, a 12-year-old doing breaststroke drops me during lap swim at the Sydney public pool.
Tuesday, Sept. 6
8:15 a.m.
I finally got to run awesome trails yesterday. We stopped in Noosa National Park on our way up the coast. And it was good for me, good for the soul. I almost got choked up (yes, again). Oh, right, this is the part I love, I'm good at, it's worth it.
Monday, Sept. 5
8:39 a.m.
Goodbye Sunshine Coast. We've had a mixed relationship in our short time together. Now it's on to vacationing and touristing and islands and some goddamn koalas and regrouping. That's what we do. Regroup, get back to work.
Sunday, Sept. 4
11:19 p.m.
Had to teach the triathletes how to go out big after their race. Except I'm not going out and it's not after my race yet.
5:45 a.m.
Time for the 70.3 World Championships. Though I don't feel like these things need to be this early.
I don't really want to talk about why yesterday's ride was bad. It was really good and then it wasn't. I had one of my weird episodes (for lack of a better word), where my heart arrhythmia misfires and my heartrate skyrockets and gets stuck and the sudden change causes me to want to pass out. At least, I don't actually pass out anymore. I was wearing a heartrate monitor this time too, on the upside, for the first time ever when this has happened, so I could see it happen, see my heartrate go from 90 to 185 in seconds as I was coasting through town. And then it didn't go down for two hours. Sometimes it went up, over 200, as I did almost nothing. I tried to wait it out, then I tried to ride through it, then I tried to coast home, then I just couldn't.
I don't really want to talk about it. I've had this problem since I was 8. I've been to doctors. No, I don't really know what to do right now. Yes, I'm a little freaked out. No, there's not much else to do differently in the immediate.
Anyway. I don't really want to talk about it. Instead, here is a picture of a sunrise as I walked to the race start. Sometimes spectating is a lot better than racing.
Saturday, Sept. 3
4:55 p.m.
I did not die. It was close though (like, for real).
Three Australians offer me "a lift" while I'm sitting in a gas station crying and waiting for Steve to come get me. So there's that.
8:13 a.m.
I am going to go ride my bike for seven hours. I had actually been looking forward to this. Here's hoping I don't die.
FIVE WEEKS TO GO
Friday, Sept. 2
4:45 p.m.
Apparently, I flew halfway around the world to have my completely predictable 'five weeks to Kona' meltdown.
2:15 p.m.
I am aware I'm having a meltdown and that I could also list the things we've done in a way that makes them sound cooler:
Swam in the ocean
Sunset run along the beach
Hiked through rainforest to a waterfall
Climbed a lookout to see some crazy mountains
Strolled along the river
Run through a national park
Eaten a lot of really good food
Visited cute small towns in the Hinterlands
Biked through said Hinterlands and rainforest and along the coast
Took a boat ride
11:42 a.m.
But, definitely, triathlon. Top of the list.
11:35 a.m.
And:
Koalas, which are probably fake anyway and a lie
11:32 a.m.
And:
Australia; people are going to ask what I did in Australia and I'm going to be like, 'rode my bike, tried not to cry.'
11:25 a.m.
Also, add to the list:
11:22 a.m.
I take it back. I am going to die biking the wrong direction down a freeway.
Here is a complete list of things I currently hate:
My bike
Triathlon
Stupid roads that are weirdly busy and technically highways, with semi-trucks on them, but are actually bike routes
Large cars
Triathletes
The wind
11:05 a.m.
We're staying on the fourth floor of a condo without an elevator. I hate those stairs. I am going to slip and die trying to carry my bike down four flights of narrow tile stairs in bike shoes.
Thursday, Sept. 1
6:30 p.m.
I fought the 50m pool and the pool won.
Wednesday, Aug. 31
6:09 p.m.
We see Craig Alexander on our walk to the pool and now Steve is sufficiently impressed. That's one of two male professional triathletes he can name. (He mostly only knows female pro triathletes.)
5:25 p.m.
I did not want to run up and down the stupid beach bike path one more time, so I came up with this plan to run at the Mooloolah River National Park.
Turns out it's the kind of park that, in the U.S., people would dump bodies. Is that a thing here? Maybe Australians don't dump as many bodies as Americans. It's a perfectly nice park, but I don't know what to be worried about. There's no one here, and lots of animals and wild brush. At home, I'd know what I should look out for. At home—or, more accurately, in Florida—this is the kind of brush-like wetlands I'd expect alligators to lurk in. Do they have alligators here? Do they have murderers? They definitely have drug dealers. Ultimately, when the trail is flooded, I end up flipping it and running hard back and forth on the dead-end road leading into the park. There are definitely drug deals going down in cars pulling off the side of this empty, creepy road.
I run very, very hard, and then get in the car and drive quickly away—getting lost, turning into oncoming traffic, and hitting a curb on the way back. Naturally. Really, it's amazing they just let anyone rent cars in a foreign country.
2:20 p.m.
Oh, right. For the non-triathletes: The reason there are so many triathletes wandering around Mooloolaba in compression socks and visors, misunderstanding traffic laws, is because the 70.3 (half-Ironman) World Championships are on Sunday. I am not racing, but Steve and everyone else in town is. Which is why they're all trying to look fast without looking like they're trying.
I am not 100% sure that all the locals in the surrounding areas know this is what's going on. They may just think strange tour groups have descended on their towns.
10:28 a.m.
There are so many triathletes. Soooooo. Many.
I think I'm screwing with some of their minds because they see me doing 4,100m in the pool or knocking out hill repeats on the bike and they think I'm doing that and racing on Sunday. Which I'm not. Which is kind of funny.
Actually, everyone running fast up and down the beach path is trying to look like they're not trying to run fast. It's mind fucking all around.
Tuesday, Aug. 30
4:51 p.m.
I was going to say that's because the first five intervals are the worst. But that's a lie. They're bad, and the last five are physically the toughest, but the worst five are 10-15. You've already been swimming for so long and you don't know if you can keep going, but you're still not even halfway yet.
Once you're halfway, you know you'll make it eventually.
4:33 p.m.
Actually, this is going surprisingly well. And I've gotten so good at tricking my brain. I have 30 intervals to do, and after five I convinced myself I'm almost done. Basically. Because that's halfway through the first set of 10. And then you only have two more sets to do. And two is a small number.
4:03 p.m.
Ohhhhh, fuck, I do not want to do this swim. I am so tired. God, I hate 50m pools.
12:35 p.m.
Glorified walking/hiking is exhausting.
8:30 a.m.
What are we doing in Australia? I dunno, what are you doing?
Mostly, we hang out, fill the days. We see some stuff around the Sunshine Coast, where we're staying, finish up some work, do some workouts. It's amazing how your days get filled when the internet isn't reliable enough to waste it on Facebook. Which is probably good for me in the long run anyway.
Part of the deal of staying in one place this whole week and traveling around next week was that I'm putting in a big training block right now. I just added up the hours for the week and it'll possibly be the most I've ever done, ever. The problem, though, is I don't want to waste our time in Australia laying on the couch in between workouts. Which I'm still doing some of anyway. It's tough. I don't know how any of the high-flying pro athletes stay fit while traveling around the world. Probably they don't do tourist stuff.
We're going to hike a waterfall later and see some mountains.
Monday, Aug. 29
3:32 p.m.
There are a lot of triathletes here. Like a lot. I've never seen quite so high a proportion of really fit athletes to weekend warriors. It also might just be because we're in Australia.
2:45 p.m.
There's a cyclist stopped on the side of the road. I ask if he's OK. He is. He's just looking for koalas.
1:55 p.m.
Steve and I are riding up (down?) the coast to Noosa. I do a lot of coast riding at home, so the main difference is that I have to remember to stay on the right (left?) side of the road. I'm way more interested in the signs warning of kangaroos crossing than in the views. Riding through some wildlife rescue area national park, I almost crash my bike looking for koalas.
Sunday, Aug. 28
8:50 p.m.
We have made it to Mooloolaba and already swum in the ocean. And already wildly misjudged how warm it would be and how well I understand Australian English.
Anyone who does that travel for a trip of less than a week is insane. I have to go sleep now. Forever.
SIX WEEKS TO GO
Friday, Aug. 26
8:48 p.m.
We're about to get on a plane and wake up in Australia. Except we'll have missed Saturday completely. It's like really boring time travel.
We didn't have to pay for our bikes when we checked our bags in, so I'm pretty convinced right now that everything is going to go right in the next six weeks.
2:23 p.m.
The last few days have been a chaos storm of trying to finish work and pack bags and make sure a long list of things that need to be done get done before I leave until mid-October. And the last thing that needed to happen was I needed to ride my road bike before we left. (My TT bike is already packed.) It's not an exciting ride. It's not hard. It just needs to get done.
And then halfway though I realize what it feels like. It feels like one of those regular meetings you have at work to check-in. And there's nothing wrong with the meeting and you like everyone there, but you still would rather do the other things you have to do after it's over. It's just a meeting whose box needs to be checked.
That's what this ride feels like. A meeting my bike and I have to have, not good or bad or exciting or anything. Just check it off.
Thursday, Aug. 25
12:03 a.m.
People definitely don't understand what I do. Generally speaking. For work or life.
Today I had to go to a press event, where we demo'd new devices and did a workout. The work people there kept asking me if I was ready to do my workout for the day. And I was like, well, actually…
2:32 p.m
Also. Also. The back of my neck still hurts from being ripped open by my wetsuit during Alcatraz on Sunday. I tried to take a picture behind my head. Here's how it turned out:
You get the idea.
2:05 p.m.
Now my throat still feels dry, and also scalded from the hot water.
1:50 p.m.
Also. I am worried I'm getting sick. I think my throat is hard to swallow. *swallows* Definitely. I'll get a tea. That sounds like a thing people do.
10:32 a.m.
Why, yes, I did look directly into the spray sunscreen to see if it was working, and then spray it straight into my eyes. It is that kind of morning.
Wednesday, Aug. 24
9:55 p.m.
I have to finish a work thing tonight, so I can leave for my workouts first thing tomorrow morning. And, of course, the site went down, so I'm sitting here pressing refresh. And refresh. And refresh.
In 48 hours I leave for 6.5 weeks for Australia + Hawaii. (Yes, it is nice. Also, yes, you too can live this lifestyle. It's easy. All you have to give up in exchange is benefits, stability, long-term security, and possible career promotions.) I am over everything.
Tuesday, Aug. 23
3:23 p.m.
Sometimes when I'm doing dishes, one of the veins in my biceps bulges distractingly. This seems not normal.
8:40 a.m.
I am swimming. I don't have much to say about it. This is earlier than my usual afternoon/evening workout time. Turns out it's basically the same, but earlier.
Monday, Aug. 22
11:40 a.m.
Even with a sweatshirt, sweatpants, and slippers on, I'm freezing. Sometimes this happens after races or when I'm messed up or getting sick. God, I hope I'm not getting sick.
Sunday, Aug. 21
9:04 p.m.
I raced today. TriCal's Alcatraz race. I love Alcatraz. And when Escape from Alcatraz increased its price to $750 earlier this year, I wanted to support TriCal's more grassroots and cheaper version. And Steve had never done the swim at all. So, four months ago signing us both up sounded like a great idea.
This week I was not so thrilled about that decision. God, I didn't want to race. But that happens. You come around. Stop thinking about it. I figured once I'd hit the water it'd all come back to me.
It did and it didn't.
I swam awful. The worst I've swum since I got fast. I took some crazy route to get from the boat to the beach, and ended up off near Fort Mason I think, by myself. I started to suspect this was not going well about halfway through. And then I started to think it might be going really badly when I came out of the water in 15th? 20th? At some point after they stop counting. As I ran to my bike, Steve was running out with his. Sigh.
I wallowed a bit. Or is it wallowing if you're simply acknowledging facts? It was unlikely I could make up whatever 3-5 minutes I was down. It was not going to be possible to have the kind of race I wanted at this point. It'd take some amazing biking and I was not biking amazing.
I was thinking about mental tricks and what to do and that I just wanted to quit and this sucked. I knew I couldn't tell myself this was going well, because it wasn't. And I knew I couldn't really quit, but I couldn't find anything to make it be worthwhile either. And then I decided this was an opportunity. I am going to have races where my swim is not what I think it should be, where it sucks. What am I going to do then? Wallow every time? This was an opportunity to practice recovering from an awful swim.
Not sure if I actually believed that or not. But saying it in my head counted for something. At least then I started pulling it back together. I stopped worrying. Just go hard. Do what you can. I cheered for Steve when he was headed back in. I got off my bike in 3rd or 4th, wasn't sure, and I just started running more or less hard. I don't think I really believed I'd catch any of the women ahead of me, but I'd do what I could.
Eventually, I made up time and there was one of the women right in front of me with 1.5 miles to go. Then I really started going to the well. I was pounding down the trails, eyes rolling up some, head tilting to one side, and finally I caught her. I tried to make it stick, almost fell down the stairs, and came out on Crissy Field. And, suddenly, there was another girl just 20 feet ahead. I had less than a mile left, but I could do it! I can do it. I picked it up to go by her and she stuck with me. We were running shoulder-to-shoulder and I thought, I can't hold this, I'm going to throw up, I just picked up the pace to pass her.
But. And this may be the thing I am most proud of in many many races. I realized, deep down, that she was struggling too, that we both were hurting. So I went harder.
I crossed the line second with the fastest run of the day. Ultimately, I ended up third overall, because one of those women jumped off the boat after me, so had a slightly faster time. Oh well. What are you going to do. Only what you can. Race the race in front of you.
SEVEN WEEKS TO GO
Friday, Aug. 19
5:43 p.m.
An old guy sitting by our condo complex pool tells me I look like an Olympian swimming.
I mean basically. Me and Michael Phelps, pretty much the same.
Thursday, Aug. 18
12:43 p.m.
I had a meltdown during my lunchtime swim. It's been a long time since I struggled to hit what should be easy intervals. And then I started to feel sorry for myself. Sorry about all the work I need to do this afternoon, how much of a mess everything is, that I can't even do this workout right. I was very rationally aware I was having a meltdown, but that didn't stop me.
Then I get on my bike, easy easy, pull it together, and I somehow manage to roll through the largest super-sized piece of gum ever. Magic gum. It gets on both my wheels. It stretches between the wheels and long strings of gum get wrapped around my spokes and my cranks and my cassette as I spin, before I notice. How is this even possible? What went wrong in my life that I'm now standing in front of Chipotle picking pieces of gum out of my bike?
Wednesday, Aug. 17
9:18 p.m.
I missed the ferry to get home from work. Why? Because I was swimming and thought someone stole my clothes out of my locker. Only they didn't. I'm just tired. And now I am sitting in an empty ferry building waiting.
Yay triathlon.
6:45 a.m.
I'm running on the treadmill and the TV plays that clip again of Abbey D'Agostino helping the other runner up, and my iPod is blasting Les Mis, and I start to get choked up. But you can't cry and run, so I try to stop myself with big deep breaths. Except it comes out as some kind of weird wheezing hiccup. I do not think the guy next to me appreciates this.
5:25 a.m.
Being up this early when there's not a race is dumb. I should be asleep. I should always be asleep.
Tuesday, Aug. 16
4:25 p.m.
Now I'm starting to cry again. Still sitting where I landed after I walked in the door. Something about Abbey D'Agostino's fall in the Olympic 5,000m, something about Emma Coburn. Something about being tired. I really should get up and shower.
2:41 p.m.
There's a group of county surveyors standing on the side of the road, I suppose surveying the county. For the last 30 minutes, I've been doing repeats back and forth in front of them. Now, it's gotten to the point where they feel the need to say something. They've gone with, "Just one more! *haha*"
Weirdly, this prompts me to do my actual last one extra hard. I hit the top of the Lucas Valley hill faster than I ever have.
1:47 p.m.
Hmm, my heart rate is really low.
1:45 p.m.
I'll probably be over there later this week anyway. I'll just do it then. I think.
1:44 p.m.
And the traffic will be bad.
1:43 p.m.
But we have food and also books at home already. And TV.
1:40 p.m.
But if I drive to the running store, then I can get dinner too. And I could stop by the bookstore. And finish the work I need to do at a cafe or something, fancy.
1:35 p.m.
Since I'm racing on Sunday, today's moderately hard ride is the only moderately hard ride this week—and it's not too bad. That's leaving lots of energy for me to focus on whether or not I should drive to the running store later to buy new shoes. Pro: I need new Hokas for Kona, and it'd be good to get them now. Con: I don't want to leave the house.
12:30 p.m.
I'm out of chocolate mint Clif bars again. This is getting to be a problem.
Monday, Aug. 15
9:58 p.m.
I was getting ready for a ride last week, realized I was out of chocolate mint Clif bars, and almost had a goddamn panic attack. Then, Saturday, I got home from a hot run, opened the fridge, amd couldn't find any strawberry-watermelon Gatorade. I stood in the middle of the kitchen for a straight minute, confused. What was I supposed to drink instead? Water? Like an idiot??
I have now been to the store to re-stock and feel much more prepared for the last two weeks until we leave for Australia. Whew.
And, no, I do not want some other bullshit substitute flavor.
1:43 p.m.
This weekend was a big, tough training weekend at the end of three big, tough weeks. While Steve was racing on Sunday, I ran around and around and around for 2 hours and 30 minutes. At one point, I literally ran back and forth down two long blocks and around a roundabout for 13 minutes while waiting. The other spectators might have thought I was crazy.
By the time we got home last night, sore and stiff, I was having some deep thoughts. Here is my deep thought for the week:
I've been watching a lot of Olympics. Did you see when Simone Manuel won? Or Maya DiRado? Neither was supposed to win. They were definitely not the favorites in their events. But they kept fighting all the way to finish. I'd always thought that really good athletes must have some extra ability to lie to themselves about the likelihood that they could win in the face of statistical odds. I figured they must just be better at believing than the rest of us. And I always thought that just wasn't in the cards for me. Like I told Hillary once: I'm never going to not be someone who does math.
But I was wrong. Every Olympian I've ever talked to is really smart about their sport. They know. They know how their times stack up and how they're expected to do. And you can see in Manuel's and DiRado's reactions right after, when they finish and then they look up at the board and realize they've won, that until that second they didn't really think they would win. BUT THEY KEPT GOING AS HARD AS THEY COULD ANYWAY.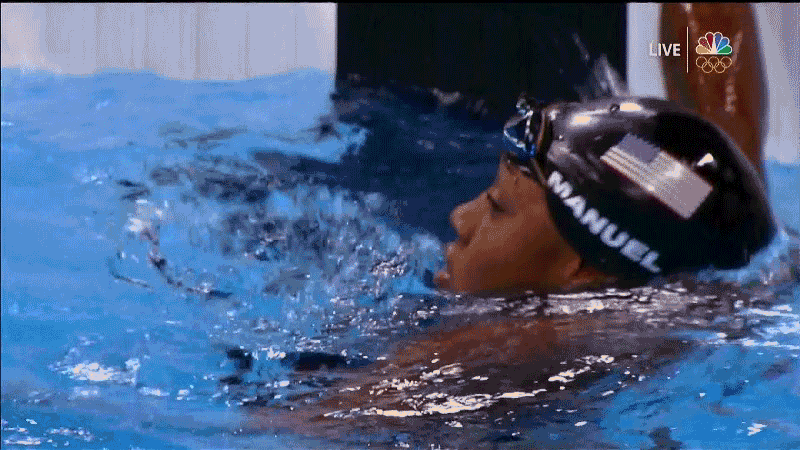 Because you keep going as hard as you can even if you know you probably won't win. Because you might. Today could be the day.
Today is actually a rest day for me. I'm having a lot of deep thoughts.
Sunday, Aug. 14
11:16 p.m.
The chaffing,  oh god, so much chaffing.
Saturday, Aug. 13
7:31 p.m.
I have decided not to cry.
7:18 p.m.
Trying to cram things in the car to head to Steve's race, I slip and slam something hard into my mouth. I almost start crying. Today's workout was tough.
1:15 p.m.
I'm biking back down Highway 1, from Tomales, when a car pulls up next to me and a guy asks, out the window, "Are you OK?" This raises a lot of questions. What is it that makes it seem like I'm not OK?
Friday, Aug. 12
6:42 p.m.
Yesterday, when I got home and sat down to watch the Olympics: nothing. The TV wouldn't go. DISH said they couldn't come out until Saturday, sometime between noon and whenever they feel like it, was that OK with me? I said, No, it wasn't OK. But it was eventually agreed I was wrong, and whatever they felt like doing would be FINE. Now, I finally have a good live stream going on the TV, but the amount this has screwed up my post-ride recovery can not be overstated.
2:26 p.m.
Right now, I should be finishing a story. Instead, I got home from swimming, shoved a frozen meal in my mouth (which I did manage to microwave first), and then lost momentum. Tupac the Cat is sleeping next to me on the couch and it looks amazing.
I have felt extra terrible the last week or so, lots of extra staring blankly at people and laying on the floor, which seems early. It's only been a couple of weeks. I only officially started "Kona training" after a mini-break post-Whistler. I have at least four more weeks before I'd expect to be regularly crying in my car. I'm just going to assume this will pass.